We always have bananas in our fruit bowl. Gigi loves to eat her "nanas" in the morning while catching up with Curious George. I toss one into my breakfast smoothie along with frozen strawberries, almond butter and whatever else sounds good at the time. When my family is visiting, my dad takes at least 2 with him to snack on at the casino (or, as we call it: "the office.")
As a result of our banana-fandom, I've gotten into a habit of buying a bunch every time that I go to Trader Joe's....or Smith's.....or Whole Foods. I just assume that we need them or that we will be running out of them, soon.
Last week, I had a lot on my mind, trying to juggle about 86 contractors at our house, a catering order and the fact that Gigi had developed some artistic abilities (translation: she started drawing on the living room walls with crayons.)
Because of this, I failed to notice (twice) that we already had bananas at home when I went to the store, and we ended up with about a dozen on our kitchen island, most of which were ripening faster than we could eat them (my dad wasn't visiting.)
What's a girl to do? What is a girl to do?
Did somebody say "pound cake?"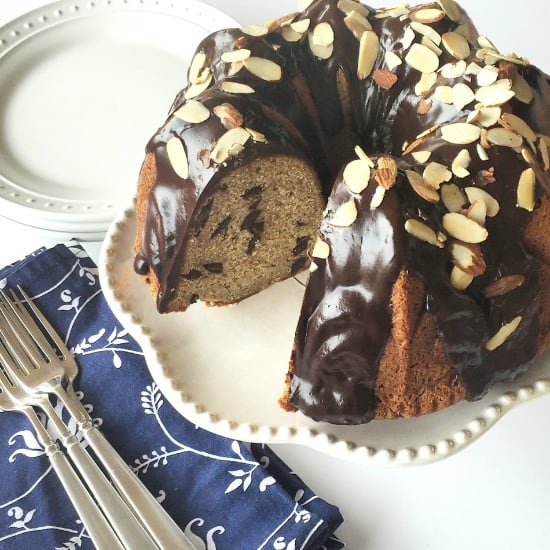 You simply cannot go wrong with the combination of bananas and chocolate. Just ask a banana split. Or chocolate-covered frozen bananas. Or Chunky Monkey. Fortunately, I happen to have just as much chocolate in my pantry as I do bananas in the fruit bowl. Shocking, I know.
It had been a while since I'd pulled out my Bundt pan, so I decided to dust it off and create a classic American bakery-worthy sweet treat: lightly spiced chocolate chunk-studded banana cake draped with a rich, bittersweet chocolate glaze and sprinkled with toasted almonds.
It's sweet, moist and proof that having too many bananas is a good thing.