For someone who writes a baking blog, I don't eat as many sweets as you might think. Oh, sure, I sample along the way as I create (don't worry--I'm not just "winging it" with my recipes!), but it pretty much stops there. Maybe it's because I used to own a bakery, where I got used to being around mountains of decadent brownies, cookies, cakes and pies all day long and, as a result, my willpower multiplied ten-thousand times. Maybe the reason is similar to the "Thanksgiving dinner effect": you spend so much time around the food--shopping, prepping, chopping, mixing, baking and cleaning--that when all is plated and ready to eat you kind of just want to sit, rest and watch others devour (and hopefully ask for seconds.)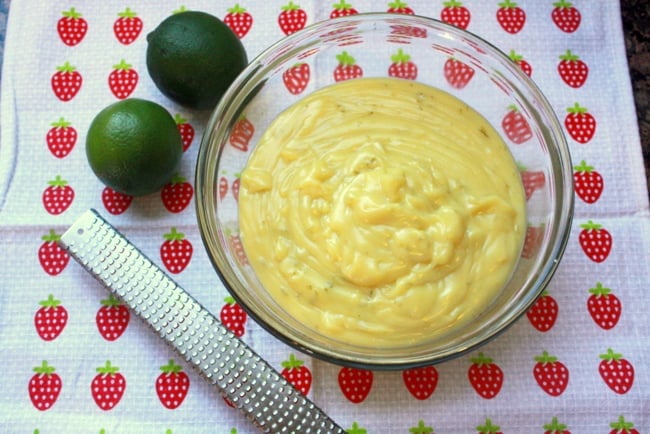 Eric's not a big sweets eater either, so I learned a long time ago to not be offended when he passes by my glorious newly iced Pumpkin Spice Layer Cake without so much as a glance. If it was a pizza, well, that's another story. He could be at the other end of the house, or probably clear across town, but his pizza radar would let him know if a freshly baked pepperoni pie had just emerged from the oven.
As with everything, there is an exception to this "we're not really dessert people" rule to which we generally adhere. For Eric, that exception is key lime pie. It is a rare occasion that he passes up any variation of this treat on a restaurant dessert menu, even if he has just polished off an entire rack of ribs and a plate of fries (I'm telling you, it's a good thing he runs marathons.)
For me, that exception is doughnuts. Well, it's really two things, ice cream and doughnuts, but for the purposes of this blog post, let's just go with doughnuts, okay? If I started waxing poetic about ice cream right now, then I wouldn't have a good segue into my recipe.
I've loved a good doughnut ever since I had my first Munchkin', which seemed to be a school party staple back in the day. I especially love the ones that are glazed or iced--ones that are freshly baked but the glaze/icing has had time to set and form that slightly crunchy sweet coat. Mmmm.... you're craving one now, aren't you?
Well, you're in luck! This recipe is the perfect juxtaposition of Eric's favorite key lime pie and my favorite doughnuts. The yeasty raised doughnuts are filled with a creamy key lime custard, and the tops are dipped in a sweet coconut glaze and sprinkled with graham cracker crumbs. I mean, come on!! The best part is that they make perfect sense for breakfast and dessert!
[amd-zlrecipe-recipe:7]