It turns out that I hate the taste of matcha.
Ummm.... That's interesting, Julie, but what does that have to do with this post?
This post would never have happened if I didn't dislike that grassy green tea powder flavor as much as (I recently discovered) I do.
This has been a week of recipe fails for me. I'm OK with the fails. It happens to all of us, and I like to think that these inedible learning experiences will ultimately turn me into a better baker. I just hate wasting ingredients, and this week saw way too much butter, flour, sugar and eggs tossed painfully into the trash.
Now, where was I? Oh, right: the matcha.
On occasion, I work with the folks at Peanut Butter & Co to create recipes. With a blog titled, Peanut Butter and Julie, it's just a natural partnership. And, honestly, I love their products. I go through so much peanut butter on a weekly basis--in my smoothies, on toast, straight out of the jar--and their fun flavors like Mighty Maple and Cinnamon Raisin Swirl make my peanut butter-loving life more interesting.
Recently, they sent me, along with a bunch of other bloggers, one mystery ingredient with which we were supposed to create a recipe that also used peanut butter.
You guessed it: My ingredient was matcha.
Now, matcha has been on the upswing in the recipe creating and foodie community for quite some time. I've seen it used in everything from quick bread to ice cream and even in cocktails, so I was excited to give it a try.
I first created matcha macarons with peanut butter filling, trying to ignore the freshly mowed lawn aroma and pond-green color as the macaron shells baked. They'll obvously taste much better than they smell!!
Wrong-o. I couldn't even take a second bite. I was unable to get past that distinctively grassy taste. Recipe fail #1.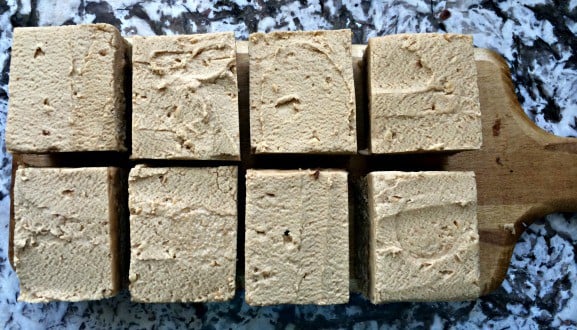 Not wanting to give up, I tried making matcha cupcakes and even a mousse. Fails #2 and #3. Maybe it's just me. I mean, I don't like cream cheese, either, an ingredient that most people seem to enjoy. Maybe everyone else would have enjoyed the taste (really??). That said, I couldn't bring myself to post a recipe that I didn't like.
Frustrated, I emailed the team and Peanut Butter & Co and told them my dilemma. I didn't want to not create a new recipe using the mystery ingredient, but I never imagined that I would hate the mystery ingredient. They were very understanding, and I was very appreciative.
And the matcha? Buh-bye. Thanks for playing!
In lieu of the matcha-peanut butter recipe, I decided to create a different original peanut butter recipe, and I came up with the idea to make brown butter banana and peanut butter blondies. I love the combination of peanut butter and banana, and brown butter, with its nutty, rich qualities, makes just about every baked good taste ten time better.
In other words, you should be browning your butter every chance you get.
My first idea was to make brown butter banana blondies and then swirl a peanut butter mixture into the batter before baking, similar to the chocolate and peanut butter swirl brownies that I have been making for years.
Recipe Fail #4. That idea turned into a big, ugly, underbaked joke of a mess. Into the trash it went.
Suffering from Recipe Failure Exhaustion (RFE) at that point, I decided to simplify. I made the brown butter banana blondies without anything swirled throughout, but I spiced them with banana bread-inspired flavors and studded them with nuts. For the peanut butter part, I frosted them with an easy and fluffy peanut butter frosting.
Finally! Recipe #5: SUCCESS!
I need a nap. Enjoy 🙂
[amd-zlrecipe-recipe:34]